We have a great series of webinars lined up for September, October and November! See details below. Webinars are free for Fungimap members with up-to-date paid subscriptions (join or renew here), everyone else is requested to make a donation to help cover running costs. As always get in touch if you have a presentation you would like to share with the Fungimap community.
The wood-wide web – a story too good for its own good?
Dr Camille Truong
Thursday 14th September, 12.30 – 1.30pm AEST via Zoom
Book in here: https://www.trybooking.com/CKLFD


The basic idea that trees are connected underground, via networks of fungi that nestle into roots, has breached the walls of science and seeped into popular culture, from movies to TV shows, podcasts and books. Even people who know almost nothing about fungi know that they help trees to talk to each other, swap resources, care for their young, send warning signals, and more. But are these claims supported by scientific evidence? Is the story too good to be true? And more importantly, how does it influence the way we conserve and restore our native forests?Dr Camille Truong is a mycologist and research scientist at the Royal Botanic Gardens Victoria and Honorary Senior Fellow at the University of Melbourne. In 2022 Camille was awarded the Maxwell/Hanrahan Award in Field Biology as a recognition of her work in understanding and conserving fungi in forests worldwide. Her cutting edge research combines field studies with experiments and modern genomic methods, to describe the diversity of fungi, their interactions with plants and animals, and the ecological role that fungi play in forest soils.
Boletaceae – A Preliminary Look at This Family
Pam O'Sullivan
Thursday 19th October 12.30 – 1.30pm AEDT via Zoom
Book in here: https://www.trybooking.com/CLLRW
Pam O'Sullivan will give an overview of the Boletaceae family in Australia, including history, characteristics and species list. Following this she will delve into more detail about a number of species, including some which are rare, some which are common, and some which are particularly interesting, including how to identify them.
Pam O'Sullivan has had an interest in fungi spanning over 50 years. She studied a Bachelor of Science at UNE majoring in Botany and Physical Geography, where she realised how important fungi are in natural ecosystems and studied all available topics on mycology. She worked in the Scientific Division of the National Herbarium at Royal Botanic Gardens Sydney as a Technical Officer, and has lectured, tutored and been a conjoint at the University of Newcastle, including about fungi in the course on flora. For decades she has promoted the awareness and importance of fungi with presentations and workshops in numerous forums from the north coast do
wn to Cooma and the south coast of NSW. She acted as a fungal moderator for three NatureMap Groups that covered most of southern NSW and Canberra as well as coastal regions up to Wollongong and Bowral. She has attended numerous mycological conferences and workshops where she established a network of national and international mycologists, including an inaugural symposium on fungi at Kew Gardens. She attended a Mycoblitz on Queensland's Atherton Tableland, working with a team of renowned international and national Mycologists to survey and document fungi in the region. As a Fungimap committee member she was part of a team with leading mycologists from around Australia that surveyed the post fire fungi on Kangaroo Island in 2008. She co-authored 'A guide to Common Fungi of the Hunter-Central Rivers Region', and is currently working on a book on Boletes with Dr Roy Halling, curator of mycology at the New York Botanic Gardens and one of world's leading experts on Boletes.  
Cortinarius in the Adelaide Hills
Jess Bamford
Thursday 16th November 7.00pm – 8.00pm AEDT via Zoom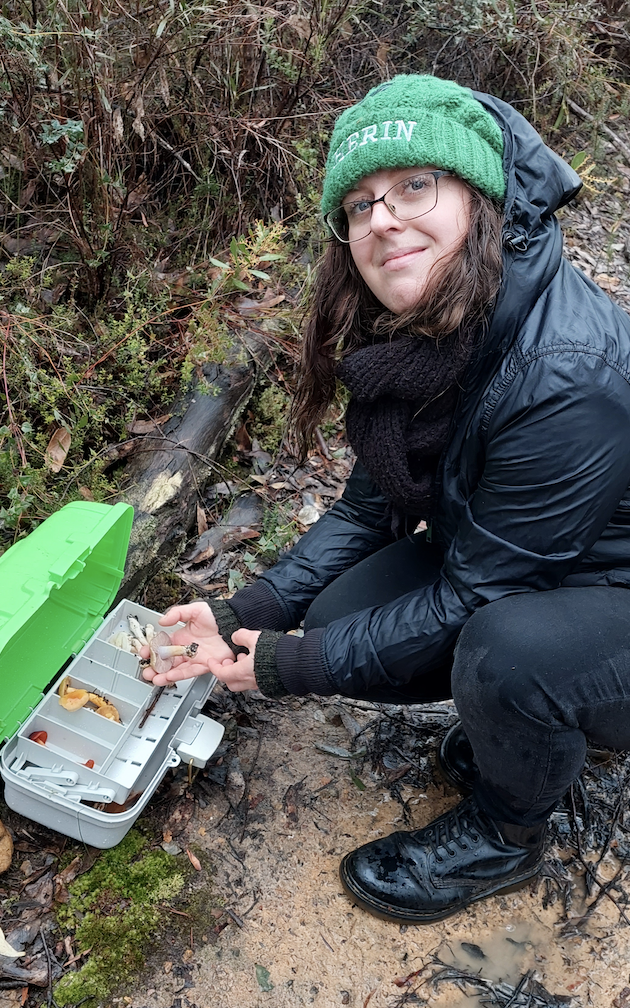 Book in here: https://www.trybooking.com/CLLSD
Jess Bamford is the co-creator of Wild Webcap, a project surveying the diversity and distribution of Cortinarius in the Southern Mount Lofty Ranges. This talk will mainly focus on the findings of the 2022-2023 season pilot project, funded by the Fungimap Spore Grant, including species diversity across the SMLR region. We will also discuss the ecological significance of Cortinarius, some identification tips and future plans for Wild Webcap.